About
Phil's Ride is a bicycle and motorcycle ride on August Bank Holiday Sunday open to anyone who'd like to rock up on 2 wheels, in aid of the East Anglian Air Ambulance.
Open to bicycle riders of all abilities and motorcycle's from 125cc upwards.
This simplistic web site is designed to provide you with the information to need to get to to quickly and easily.
Click the links on the right to donate via our JustGiving page and view our current total.
Follow all the latest developments and discussions on our Facebook page.
Click the link on the right to download your sponsorship form.

LATEST NEWS - August 2019
It's Phil's Ride Month!
Time has marched on and it's not long to go now until our main event. If you're planning on riding and want to take part, here's the itineray in a nutshell;
| | |
| --- | --- |
| | |
| Time | Notes for Sunday 25th August 2019 |
| 11.00 am | Registration open & EAAA Helimed Two due to land |
| 12.30 pm | EAAA Helimed Two due to depart & 1 mins "Noise" will be observed |
| 12.31 pm | Two wheeled riders depart |
| 2.00 pm | Phil's Mini Ride starts at The Old White Bell |
| c.4.30 pm | Riders due to return to The Old White Bell |
| c.5.15 pm | Live Music due to start |
Live Music
Our confirmed live music acts for the eveing are as follows;
| | |
| --- | --- |
| Sophie Frear | The Upwell Saga Louts |
| The Stool Pigeons | Kill Me Kate |
| The Boatman | Holly Jean |
Auction
We've some absolutely fabulous auction items this year. The auction will take place on the evening of the 25th August at The Old White Bell at approximately 6pm during a convenient break in the live music. We'll be auctioning the following items;
Mens Mountain Bike
(Spike & beer not included)

Locally handcrafted garden
bench

Locally handcrafted garden
table & chairs
(bottle & glasses not included)

Light aircraft flight for 2 donated & flown by TV commentator & ex pro racer Steve Parrish

Red Bull Racing jacket
(size XL)

Hand crafted Gin Bar, with Gin & Glasses

Motorcycle jacket (size L)
(Claire not included)

Yellow Rose canvas painted by local artist
Leila Whitehead

EAAA hangar visit for [up to] five people
---
Builders Bash Sat 13th July

A fabulous afternoon and evening as Ben Layn and David Beeton hosted the Builders Bash. With a BBQ, Bouncy Castle, football, swimming pool and live bands, there was fun for all the family. Exceedingly well attended and a fabulously successful event. Stay tuned for their donation update.


---

Car Wash Sat 6th July

The rain didn't stop the Phil's Ride team from washing cars in the Old White Bell car park as we figured we were going to get wet anyway.
The afternoon was a resounding success and a grand total of £379.39 was raised and added to our fund raising total.

Minimum £5 in the bucket


---

Dance Night - 19th October 2019

Book your taxi's for dance night at Southery Village Hall for Saturday the 9th October for a good old fashioned dance evening with live music from "The Strollers". Bring your own drinks and nibbles. Tickets are £8 on the door and the Facebook Event link can be found here. (Link TBA) 50% of the evening's profit will be going to Phil's Ride.

Jane (sitting) pictured with Susan Chase of Southery Hair Studio who will be undetaking the task should we hit our £16,780.82 target

Head Shave

A rather big announcement from our very own Jane (Phil's partner) as she would like to announce that if Phil's Ride hits its £16,780.82 target for this year, then Jane is prepared to have her head shaved!

Jane is rather attached to her hair, so this is a very big step for her. A very nervous Jane said "I so want to try and break the £50,000 barrier raised for the EAAA over the last few years from Phil's Ride that I want an incentive for people to help and keep the helicopters flying.
The really big news for our 2019 campaign is, emergencies aside, we'll be having a visit from the EAAA Helimed Anglia One on our big ride day on the 25th August. The Helimed will be landing on Southery Playing Field at approximately 11.00am so the public can meet and speak with the crew as wellas gain an insight as to how they work. Providing all goes to plan, depature will be coinciding with the cyclists and motorcyclists departure time of 12.30pm, signalling the start of the ride.
History
Phil's Ride started in 2016 as a memorial ride for Phil Beeton who sadly lost his life in an RTC in October 2015. Due to the swift action of the EAAA, they were instrumental in saving Phil's nephews life Jack, by airlifting him to Addenbrokes Hospital. Jack is alive today because of the EAAA.

Phil's Ride has gone from strength to strength. The first ride in 2016 saw a pigrimage of motorcycles undertake a return ride to Blakeney which is where Phil and Jane (Phil's partner) used to ride for leisure days out. Also on this day, not wanting to be left out because they didn't have an engine, a collection of cyclists rode a local route also in commemoration. This first ride in 2016 set the precedence for the following years and every year we've rode in Phil's memory.

Team MAMILTON (Middle Aged Men In Lycra Tour Of Norfolk) in 2017 undertook a cycling circumnavigation of Norfolk over 4 days and in 2018 done the same 197 mile route in under 24hours.

So far, Phil's Ride has raised a total of £35,141.25 for the EAAA in 3 years and this years total is already underway!
Phil's Ride 25th August 2019
The really big news for our 2019 campaign is, emergencies aside, we'll be having a visit from the EAAA Helimed Anglia One on our big ride day on the 25th August. The Helimed will be landing on Southery Playing Field at approximately 11.00am so the public can meet and speak with the crew as wellas gain an insight as to how they work. Providing all goes to plan, depature will be coinciding with the cyclists and motorcyclists departure time of 12.30pm, signalling the start of the ride.
Taking Part
If you would like to take part and join the ever growing number of riders on 2 wheels for Phil's Ride, simply turn up with your steed of choice at the Playing Field in Southery (PE380NB) from 11.00am [onwards] on Sunday 25th August 2019. (NB: Due to the popularity of the event, car parking will be conjested, so we advise people arriving by car to park sensibly in the side streets, the extra parking facility opposite the Old White Bell and the Village Hall car park, located close to the playing field and of course be mindful and respect local residents.)
Bicycles will ride a local 21 mile return route to Downham Market to the Wimbotsham Chequers. The exact route is TBA
Motorcycles will ride a 109 mile return route to Blakeney
Mini Ride will be parent supervised bicycle laps of The Old White Bell car park. Despite the weather, this proved very popular with young children last year
All we ask for taking part is a donation in one of our two collection buckets upon arrival at time of registration of at least £5, or if you'd rather sponsorship forms are available to download and print. All donations, no matter how small, will be greatly appreciated.
A "Phil's Ride - In Aid of East Anglia Air Ambulance" high-vis will be loaned to all riders (subject to availbility) upon your registration. These have cost our sponsors quite a bit of money so please return this after your ride.
Bicycles
The bicycles will be organised into groups at registration for marshalling purposes consisting of Casual, Experienced and Enthusiast. The groups will have staggered starts to aid the marshals and the impact of the short ride on the A10 for other road users.
Should a cyclist be unable to do the full distance, simply wait for one of our support vehicles to take your and your bicycle back to the Old White Bell.
Motorcycles
The motorcycle ride will again be riding 109 miles to Blakeney as frequented so often by Phil and Jane on his bike.
The Southery playing field is quite a bit larger than The Old White Bell car park but it does have a narrow entrance, so I'd ask all cars to park in the streets, The Old White Bell overflow car park opposite the Old White Bell and the village hall car park.
At 12.30pm, we'll hold an observance of
1 mins Noise, along with the Anglia One Helimed
in a remark of respect and remembrance of Phil and his family.
We advise all motorcycles to brim their tanks before arriving. For those not familiar with the area, the nearest petrol station is Stone Cross, Downham Market, PE380AD to the north of Southery or BP, Littleport, CB61JJ if coming from the south.
The ride will be marshalled by riders in orange high-vis and will follow a fairly simple main road ride to Blakeney via Mundford and Swaffham, stopping at Blakeney where the burger van will [hopefully] be prepared for our arrival for a 40min stop. All being well, the petrol station as we arrive at Blakeney will be a functioning 24/7 pay-at-pump by then (I'll confirm as soon as I can on this) however if not, we'll make a fuel stop at Wells-Next-The-Sea which will be on our return leg shortly after departing Blakeney.

The return leg will be the same as 2018's route via Wells-next-the-Sea, turning left after Holkham Hall estate, through Burnham Market, left at the pond at Stanhoe, through the CITB at Bircham Newton, Fitcham, Grimston, Gayton, East Walton, Narborough and then pick up the Swaffham Road near RAF Marham and back to Southery. All being well, motorcycles will be entering the northern entrance to the village at 4.30pm and will escort the cyclists the last few hundred yards back to the pub.
Phil's "Mini" Ride
Available for small children with parental supervision, we'll also be running a Phil's "Mini" Ride, open to the younger generation who are unable to participate in either of the main rides. This ride will consist of sponsored laps of The Old White Bell car park on 2 wheels (stabilisers are of course allowed) and will be supervised by some of the MAMILTON team, however parently help and supervision would also be appreciated.
Phil's Ride 2019 Xtra
Bicycles
If you are a serious cyclist and and would like a challenging ride, why not join Team MAMILTON on Saturday 24th August and ride the 109mile distance the motorcycles will be doing the next day. Needless to say, the 109 mile ride isn't for the novice but from feedback we appreciate that some riders would like more of a challenge before the leisure ride on the Sunday.
If you, a team or a club of riders is interested in this challenge, then email the team on ride@philsride.org to register your interest.
Motorcycles
June 2019 Update - No Xtra ride is planned for this year, but a big trip is planned for those few who wish to go on a [very] long ride. Planning for June 2021, the ride is in its infancy of a foetus of an idea, but essentially it's envisaged to acknowledge the 10 year anniversary of Fat Bloke On A Moped and "do" Britain again. Call it a lap of honour.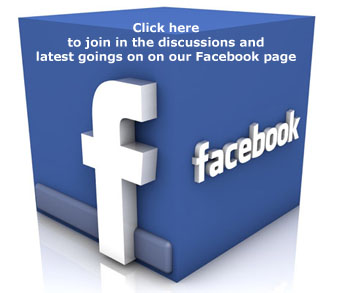 Sponsorship Form
Our Poster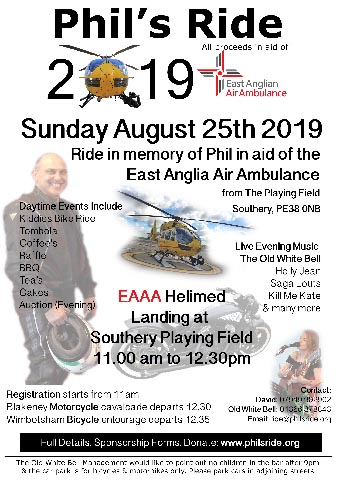 Routes

Motorcycle Route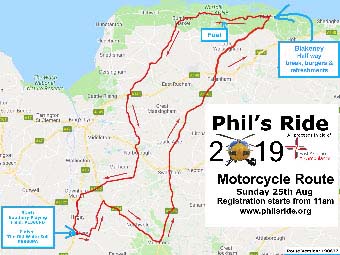 As previously, the route is a ducks and drakes route and will be marshalled. It's slightly different than last years route north of Fakenham, encompassing a more picturesque route.
Bicycle Route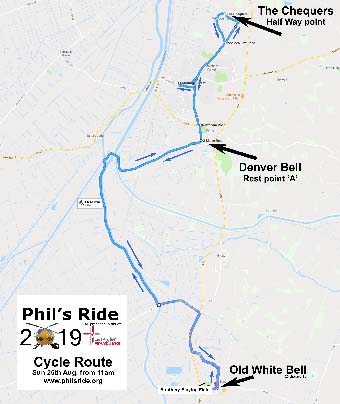 The bicycle route this year was so successful last year, we've decided to leave it unchanged, with just one rest stop at The Denver Bell before the turn around point and second rest point at The Chequers in Wimbotsham.
Please Note!
The bicycle and motorcycle rides will be taking part on public highway's and as such it is the riders responsibility to ensure they are wearing the correct safety equipment such as helmets, gloves, etc,. and have a legal and roadworthy vehicle.
The organisers of Phil's Ride accept no responsibility or liability for matters arising for participation in this event.